A story in V Acts and multiple facets. Let me tell you about my sailing adventure: the good, the bad and the ugly.
---
Foreword
We where looking forward to this experience so much and Oh boy how different it all went. This was an amazing exercise in expectation management and I can't speak for Hass but I learned a lot. Not just about sailing, but also about myself, customer service, communication, event postmortem, relationships, expectations and maybe a bit about the universe itself.
Ok. let me set the stage. We have a loving but maybe a bit naive couple, months of planning, a bunch of savings, hopes, dreams, youtube video knowledge, 3 cats to accommodate, a recommendation for a sailing school and a phone number. Go:

---
Act 1 – Planning Phase
The male of the couple calls the provided number months in advance and agrees with the eager young man on the other side of the line a construction that works for everyone including the cats and gets back to his partner with this happy news. She is equally happy until she realizes, that it will not leave any time between her other course and the start of this new adventure. This wouldn't do since the sailing course should set the scene for the rest of their lives. So he calls the school and agrees with the eager young man a new date. By email, the school asks the couple to booking the course over their online form and to just fill in the date the couple wishes to book. Glad this was resolved so quickly and smoothly, the couple fills in the booking form for a week later than originally proposed and with the knowledge, everything is falling into place they go about their lives.
… the light darkens on the stage and the music becomes threatening. The couple doesn't notice, that the booking form is programmed to not send a copy or confirmation of their data…
Fast forward a month and a half, where our couple has forgotten the booking form already, just finishing other courses and planning to move to a different country. Our male character … let's call him Hass … gets an email from the sailing school asking if the course could be pushed back a week since preparations haven't gone as well and paperwork needed to be filed by the owner of the boat and such. Hass gets an uncomfortable feeling. Everything is planned to the detail, the car has been sold and should be handed over a day after the course finished and the move needs lots of attention around that time. So he responds that it would be more than inconvenient and the school understood and promised to hurry the boat along to be ready for the planned start date.
…the light darkens and the music swells to match the gloomy mood. None of the characters noticed, that neither of them mentioned the actual dates each of them is referring to…
Yet again time has passed and Hass gets a call from the school – let's call the caller Steve. Hass was about to leave for Malta, to secure living space and arrange the paperwork. Steve was calling to go through a few details and as Hass told him, he should call a bit closer to the date since he was about to pack for a flight. "You are flying?" Steve wondered, "I thought you guys come by car?"-"Yes, we do, but that's 2 weeks away. " Hass responds confused. "But the boat will be waiting for you guys this weekend! " Steve exclaims. And the oversight with the dates slowly becomes apparent as the two start to sort out the mess.
---
Act II – Arrival and first expectations
Now that I am a bit more involved, I can take over and tell you the rest of the story from my perspective with a little less he-told me and a bit more I remember.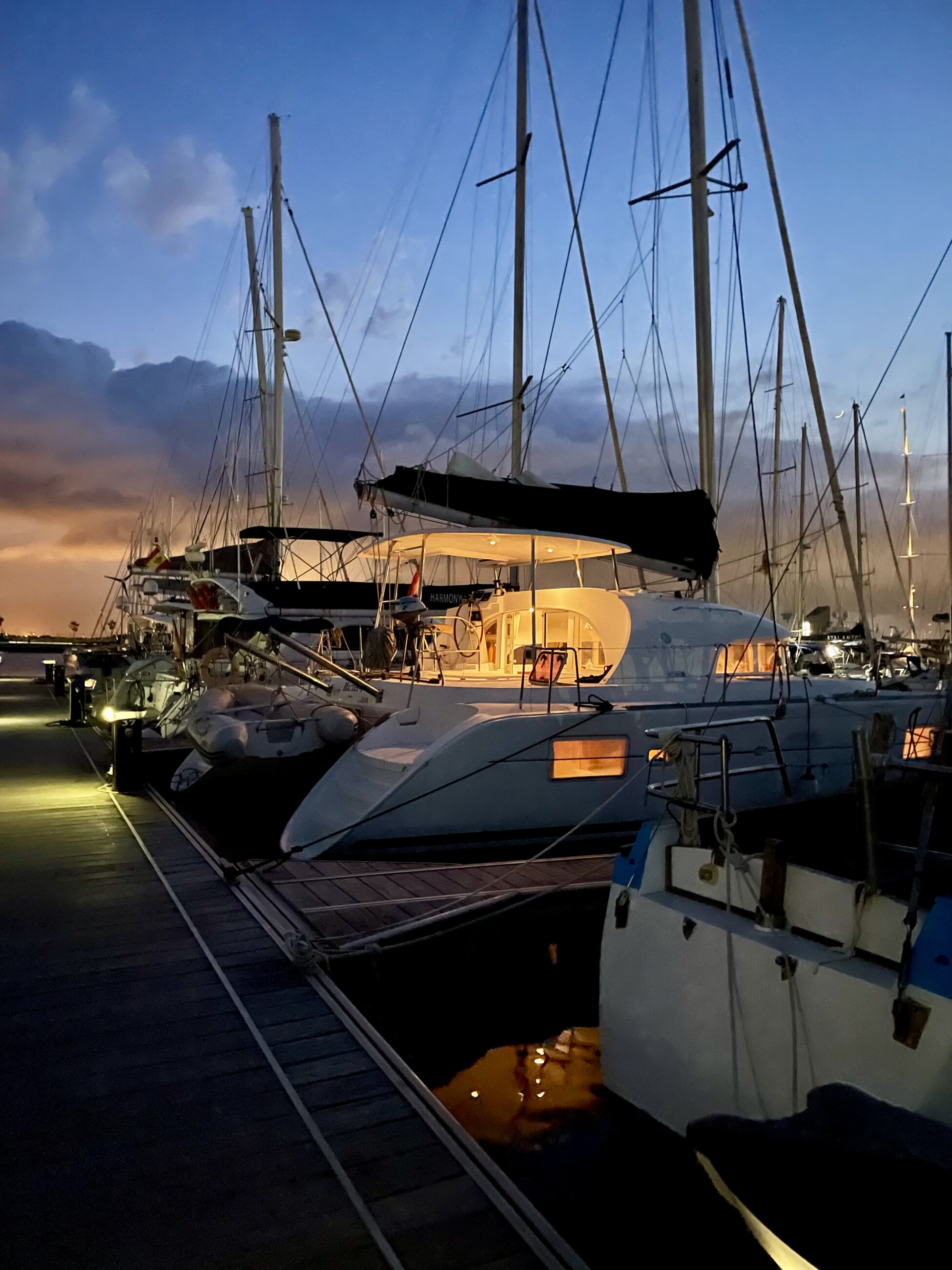 Alcaidesa Marina – First night
Arriving at the marina we are full of confidence nothing can surprise us. We have done our research on Catamarans and sailing, chores and tasks and the good and the bad of this lifestyle and after meeting Captain Charlie and discussing what we expect to get out of the course, our limitation of having to be back around Faro within 3 nights to refresh the pet feeders and check in with my lovelies we headed to the boat.
Well, we were wrong. We could be surprised and Master V -the boat- did so not alone by its stupid name. We didn't expect a brand new boat, but we did expect a working tender, the possibility to use the shower aboard, being able to charge some devices whilst out at sea and the meal-plan Steve had talked about a few times. None of these expectations were met that night.
Not that Hass or I would really have been able to shower in the tiniest bathroom I ever have been in apart from my parents campervan. We defenetly have too much bulk, or just to many arms and legs I suppose for showering in a 1×1,10 m bathroom including the toilet bowl. But Charlie also mentions that we will not have enough water for that anyway and we have to wait till we are in the harbour again.
At this point we reminded us that we will have the boat we are going to choose and decided to ignore the negatives and focus on the positives and head out for first introduction to sailing: Steering and man over board.
Charlie's teaching style is a more hands on approach and though I don't like that approach usually, I did quite well with this, this time. Hass dislikes that approach even more but even he managed really well to catch his buoy member and get him to safety.
After steering exercises, couple of points of sail, way of right and filling up the Boat for the trip tomorrow it was time to find food and go to bed. Big day tomorrow.
---
Act III – The first Sail
The weather couldn't have been better. Sunny, calm with a bit of wind. We didn't sleep so well, since the movement, the mosquitos and the unknown noises kept us awake. So first order of business was getting some coffee and breakfast. In true to us style, that went a little chaotic and we anded up having breakfast staggerd to each other.

Never mind that, lets have another look at where we are heading and lets go. For the 5th time we mentoioned to Charly, we have now 2 nights to get back to the cats. So as far as we could see, there was no rush needed.
The captain however decided we should right away do a day and night sail of 150 nautical miles with shift changers at night. Though we both found the idea a bit intimidating and strange, we listened to our sansei and set sail.
Getting out of Gibraltar felt humbling to me. Being such a small vessel in between al these massive transport ships was something else. Plus, a distance that looks like it should take just a few minutes took actual hours.
We took turns sailing with Charlie. Considering, we both didn't sleep well and that we would have to do the Night Shift of 6 hours on our own, we wanted to get as much 1 on 1 teacher time and sleep as we each could. I apparently managed to sleep through the perfect "Champagne sailing" and our first pod of dolphins, whilst Hass slept through some rougher parts and actually nothing happening at all.
Preparing food for the first time aboard was rather difficult so we left it up to Charly and decided we will give it a try once we have sea legs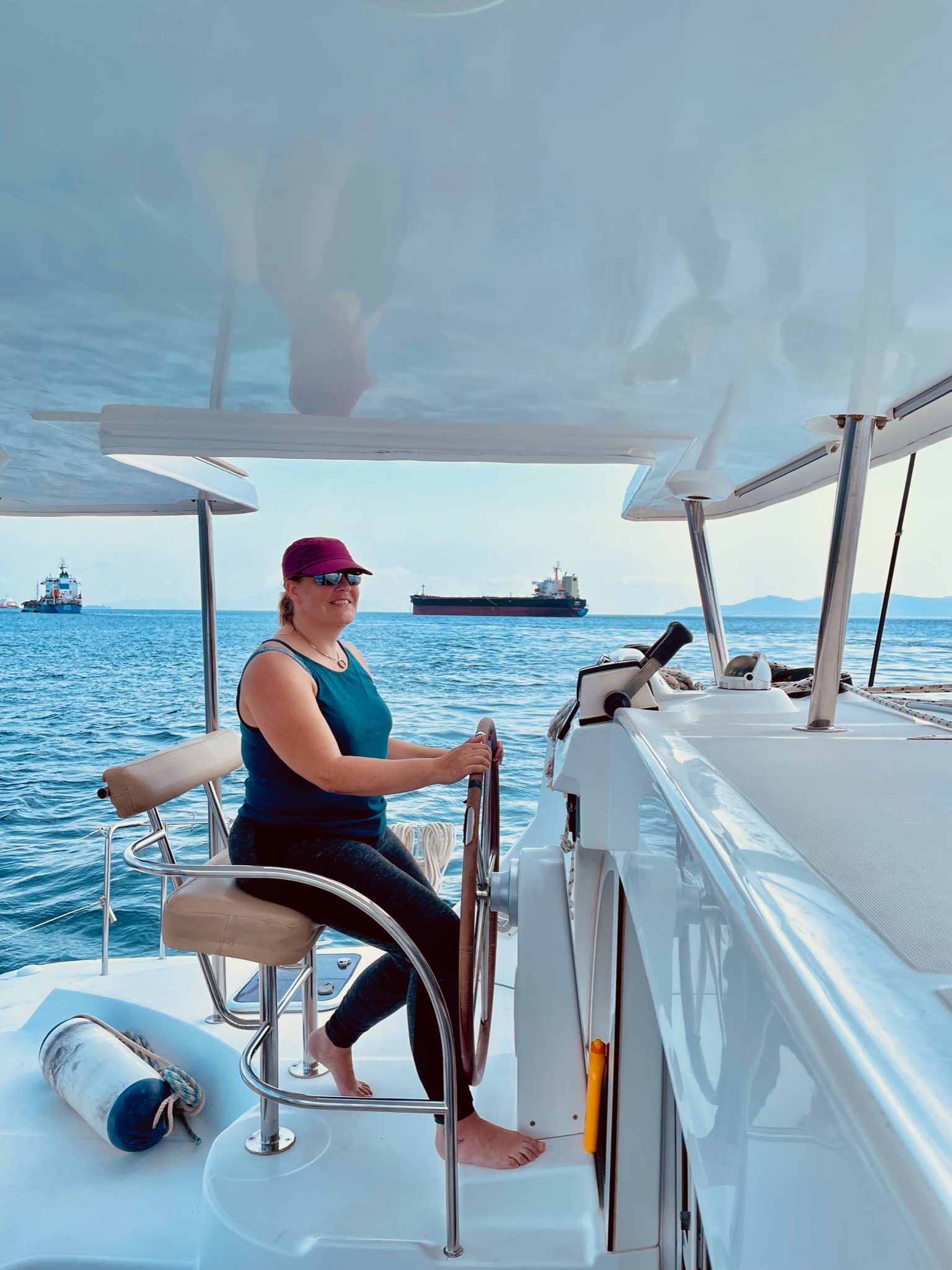 I quickly found m,y favorite spots. The helm or the front nets where you can see the water whooshing past you underneath your butt.
Hass and I took the first shift. It was horrifically cold wich was bad for Hass but I found it rather charming to complain about it together and to slip closer under the blanket i found on the helm seat. I always imagined us sitting like that on a crossing to an exotic island. Today the destination didn't matter, only that we are here and making our dreams reality.
How darker it got how more surreal the world became. Hass found the water menacing and though i felt a bit of that too, i also saw it as breathtakingly beautiful as it was pitch black and reflecting the stars back at us. The weather was calm and the sound of the motor had something comforting as we nestled against each other both holding a hot cup of tea.
The night was way too short and the next morning started already uncomfortable. The sea got rougher and Hass became more and more pale till he resembled an angry salt figurine. His mind went through fight or flight and though flight mostly won, there were a few burst of fight too and we all decided to not go to Faro but stop in the closer Tavira for our land excursion to the cats.
We entered the waterways and wanted to get on land where we could call an uber, but the local boats people didn't want us to get on the mainland and pointed to an island behind us from which we had to take a taxi boat to the spot we wanted to land originally. This gave us time to talk amongst us a bit and we had some clarity about our dream and our future life. This was definitely not for Hass.
---
I wrote a bit more about loosing our dream and my emotions in this post:
---
Act IV – Going Back Alone
I made my way to Olhão on my own with 2 bags full of food, that Hass got at the shops as i took care of the cats this morning . I found the pier and noticed to my dismay that Charlie had picked a dock thats locked and private people are not allowed. Luckily I can be a crafty one and slipped in with someone else pretending my hands are too full to find my key card. No one stopped me, until i got to the end of the pier and the water police approached me with a boat. I explained that I was just waiting for my friend to pick me up and that it would be just a quick second and he would not even tie up for me. The police was not amused but since i was already so emotional from the decisions lying in front of me and the emotions of the morning i burst out in tears and exclaimed that all i want is to get on that boat and get away as quick as possible and if they could find it in their heart to please please let me go. I think they found speaking English to an emotional wreck too difficult and they waved Charlie closer and told me to never do that again. I honestly could agree to that and was off on my own with Charlie. The plan for today was just finding an anchoring spot in Olhão and make our way back to Gibraltar – or as far as we get by day – the next morning.
The motor sail was beautiful and calmed me down a bit. I missed Hass and constantly wanted to point something out to him but soon I had to concentrate on the water depths and rules that i was distracted enough. Once we found a spot, Charlie discussed anchoring with me and let me do most of it. He just checked my work and we prepared to go on land for him to charge his devices whilst I cleaned up a bit from the days unpacking and the ropes. Charlie had to pump up the tender again and I was painfully aware that i still haven't bought a waterproof bag for my gear as I jumped into that wonky little rubber duck of a tender.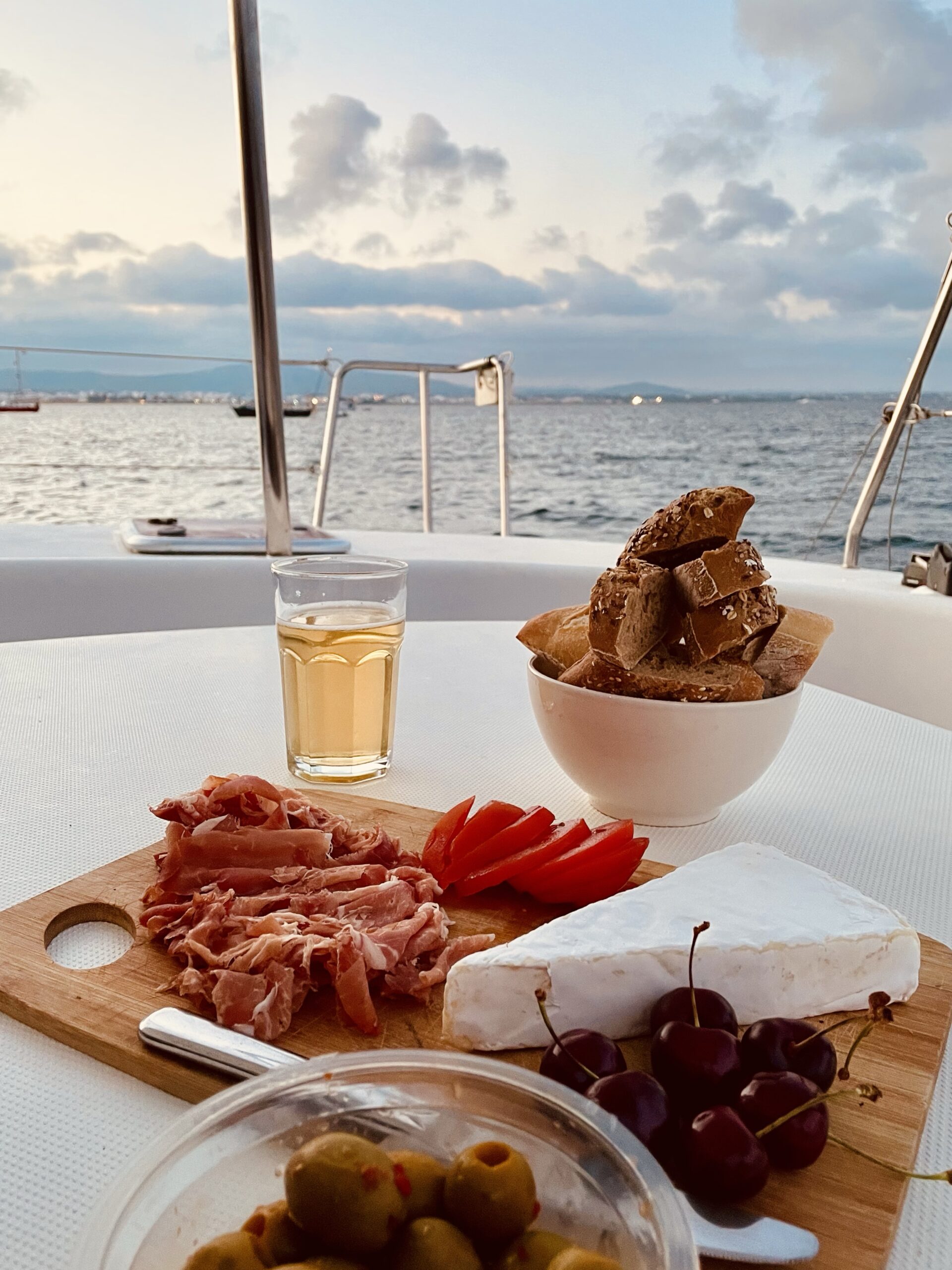 Charlie was sad to hear that Hass wont be joining us until maybe Gibraltar and he thought that he showed great promis. We talked a bit but then he left me to my own thoughts before we went back for dinner of wine and tapas, that Hass provided us with and me musing over the dark bay.
Next morning was a lesson in. Checking the boat for passage, motor maintenance and bulge pumping. Also, the electric winch for the anchor gave up, so Charlie and me had to get the thing up by ourselves, wich nearly cost me a finger as Charlie slipped and the chain was not secured the right way. We learned from that and the rest of that 30 minutes went without a hitch.
We decided to sail as far as we would get and kept an eye on the map for possible anchorages. Charlie let me get the boat out of the waterways around Olhão and as we where on our way helped me learn map reading and right of way. That was maybe a bit too ambitious for me, since the seasickness pills and ginger didn't seem to help as much as the days before. I still could ignore it though and Charlie and I took turns on the helm. For most of the time, when not studying, we both kept to ourselves with music, books and podcasts. We pointed out the occasional sunfish or school of dolphins and my soul just started quieting down. I got into the same zen mode that i get into when diving, silversmithing or photographing. A blissful state without any much thought. And the day just sped by. We decided to go into the harbor of Cadiz, where we got welcomed with a mariachi band practicing somewhere close to our anchorage. Unfortunately the shower-house didn't have energy and therefor no hot water. So i spent some time writing and falling exhausted to bed.
Next day was the last stretch. From Cadiz back to Gibraltar and back to my husband. Though my mind was quiet most of the time, the sporadic communication after 2 years of being locked up together was strange and I didn't like it.
The sea was undecided today. We had a lot of rough patches, but not good enough wind to get a nice travel speed. Just enough to make it uncomfortable and after we caught and cooked a tuna, I got really ill and hung most of the day over the side of the boat. Food didn't agree with me at all. Nor did water really. At least I got all of the glorious facets of sailing in these 8 days.
I still did my shifts. I felt better at the helm but as it got dark and the wind still hadn't picked up, Charlie took longer shifts and we figured we should sail through the night to get there. After dark we took 2h shifts each and the sea got more and more rough. Around 11pm we finally got into the straits of Gibraltar. Just 2 more hours of motoring and then we finally both could rest. Fortunately we didn't have anything yet go massively wrong with the boat. The bilge filling didn't count in the universes score book, so an earlier decision of Charlie's, to fill the left motor up with a mystery can of fuel, came back now to bite us us in the ass. The left motor gave a strange noise and gave up all together. I heard the noise below deck and seconds later a slightly panicked Charly asked me if I could man the helm whilst he does repairs. So I steered the boat between emptying my empty stomach whilst Charlie worked on a motor in a rather vulnerable spot of this boat in rougher seas. Together we managed to keep calm and after an hour or so, Charly gave up and agreed that he probably poured the wrong kind of fuel in the diesel machines. The rest of the way was luckily calmer and even my stomach was to tired to stay mad.
Next day was spent cleaning up and doing a few sailing exercises in the mouth of Alicante harbor. Hass had joined us and I was looking forward to spend 2 days in Spain and visit some friends of ours.
---
Act V – The rest of the Course
Once home we tried to find ways for me to finish the course, but without a car the distance was just too far to do again by bus, blabla car and other means of transport. Hass contacted Steve to ask what their solution is and if a partial refund could be discussed. Steve didn't find fault on their side with the planning and suggested we find a way to the boat which Hass didn't take kindly. After a little heated exchange a partial refund was agreed and paid a few weeks after several reminders. The refund was not quite fair to us but then we just wanted to finish this chapter.

Receiving the logbooks the next uncomfortable truth got apparent. it was not filled in for me and all my extra lessons where not marked. Oh well, at least I have my memories!
---
Epilogue
How to end this story!? What impressions am I left with?!

I can only say that the experience left me with so many different feelings. Disappointment over the way it went and the state of the boat. Extra communication from our side could have helped prevent some but not all mistakes. However, I do expect the service provider to keep to the dates booked and additionally agreed on the phone and double check with us frequently and unmistakably and own their mistakes. I'm gutted about losing our dream and a clear direction together, but can see it might make us stronger if we find another direction yet again. I feel elation from the sailing and spending time in nature and a bit sad for feeling sea and land sick even though I think that might fade with time. And I am for sure not done with sailing yet!
Go have a look at my day at sea video!