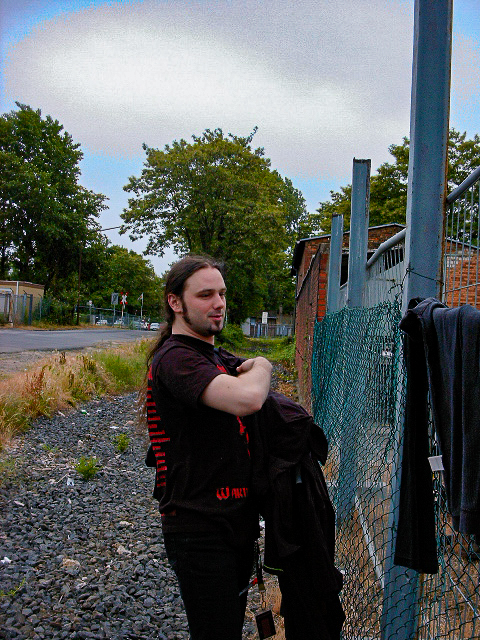 Then we met Izmet, the bus driver of the supports who we asked to bring us some doughnuts from Dunkin Donut in Berlin to Hamburg if he has a chance to. He got the doughnuts, but due to our changed plans, he and I guess the Americans ate them…Pity!
We already expected Tommy Göttlich from REBELLION and finally, we got to talk to him and Uwe Lulis again.
Meanwhile outside we found Curran picking up the dried clothes which were hanging on the fence next to the night liner.
Today Joey Vera was so kind to answer a few questions. Just a little update about his bands and what to expect in future. Unfortunately we haven't heard the new ENGINE album, but Joey had an extra copy for us and so we agreed to continue before the show in Osnabrück.
Busy as bees we gave the profiles to Jack, Russ and Randy and they promised to hand them back at least in Aachen. We also asked Randy for an interview about REBELLION & ANNIHILATOR and we agreed to do it in Osnabrück.
Jack preferred to do the interview at another show as well, coz there were a lot to talk about and today someone from theirlabel showed up.
After dinner Micko had time for a short interview.Meanwhile the fans were let in.
Today's show took place without any technical problems and everybody enjoyed it. But during the ANNIHILATOR show I got a call again with another tragedy…Jonas took good care of me first and everybody was really nice!
They are always nice, but tonight it was different…It was like being part of the family! Thanks to all of you! We really appreciate it!
(Written by Claudia and me)