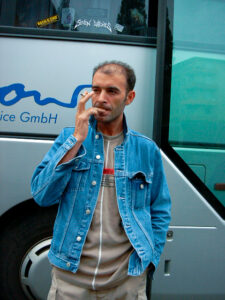 Izmet, the new bus driver, Claudia and I left for a coffee early in the morning.Back at the venue, we waited for the locals to arrive. Izmet offered Claudia his bank and Brian lent me his so we had about 3 hrs. sleep. Thanks a lot!
In the venue, we got some more coffee, but even for the bands, there was no breakfast. Jack, Brian and André left to see Star Wars at the local cinema. In the Netherlands, they have the original versions with subtitles.
Claudia and I decided to get food somewhere downtown. At a café we got breakfast. On the way back I bought some batteries for my camera at the gas station.
When we came back some washed clothes were draped on the bike stands and Micke and Sigge were sitting next to their bus and fixed their boots with glue and stage tape…
In the venue, we talked a little with the guys from DEBASE. Outside a few fans were waiting for ANNIHILATOR to sign stuff.
We had some more coffee and took a look while the crew was setting up the equipment. Taz asks us to get him a pack of cigarettes and Kyle ordered some as well as a phone card. So we headed to the gas station we've been earlier to fetch the stuff for them.
Again back at the venue, we ran into Wade who asked us for some nasal spray, "Just salt, no chemicals". We told him that it is Sunday and it won't be easy, but we would try.
For the so many times we headed downtown and decided to ask at the gas station. The employee was so nice to check the local newspaper and made a call to find out which pharmacy is open. By now he got to know us. He gave us directions and soon we found the pharmacy and got the nasal spray for Wade.
Today Jeff Waters seemed a little bored and so we asked him to fill in our profile. We decided not to ask Russ Bergquist today, coz his girl friend was there.
We were tired and apparently, we looked tired, so Jonas and Sigge of DEBASE offered us their banks, coz they had to be at the soundcheck. Thanks again!
Afterwards, we met some German SAVATAGE fans and chit-chat a little. Most of them even Claudia couldn't stand, but mostly it was the way they treated us. Now we were interesting, since we had access to SEVEN WITCHES, but usually, they ignored us at other shows. However, it is a dog-eat-dog world. Though I never will get used to that.
Doors open at 8 p.m. and soon the small venue were packed, hot and sticky. Before the show started Claudia met some girls outside who she met several times before.
Friends of Joe Comeau and when he walked over he asked me if we have seen the tour manager. We tried to find Michael but didn't succeed, but we could help out with our passes and so the girls and Joe were happy.
Today the audiences seemed to be more interested in DEBASE and the guys had a good show even if some fans were still hanging around in the café of the Hedon.
As SEVEN WITCHES entered the stage most of them could be found inside to see the quartet.

Time for ANNIHILATOR and again too hot for Claudia! She stayed in the café to talk to some SAVATAGE fans and stayed at the merchandise booth. I kept skipping around as usual. André (drummer himself) used the chance to watch Randy's drum solo and chained Claudia to the merch.
After the show again hanging out in the café until the local crew kicked us out around 1:30 a.m. Manne had a coffee for us while we were waiting for André who is living in Düsseldorf as we do.
Still waiting until André had picked up all his stuff we killed time with Jack and some fans. Then André was ready eventually and we left to Düsseldorf.
(Written by Claudia and me)